Counter Intelligence: Which Countertop Is Right for You?
Posted by Erik Ymer on Monday, May 7, 2018 at 8:21 AM
By Erik Ymer / May 7, 2018
Comment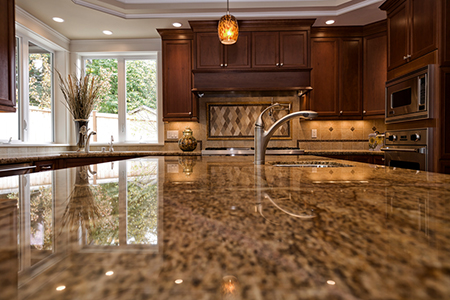 There are more materials, colors, and patterns available in kitchen countertops than ever before—and since many are close in price, the decision may be even harder.
The product testers at Consumer Reports scratched, stained and scorched seven of the leading contenders. What they found may help potential remodelers narrow their choice of materials:
No two slabs of granite are alike, but they all survive abuse with ease and maintain beauty and luster. But edges and corners can chip, and counters will need periodic sealing. Estimated cost: $100 – $200 per square foot.
Also known as engineered stone, quartz is a blend of stone chips, resins, and pigments, which can take plenty of use and abuse, although edges and corners can chip. While quartz comes in an array of vibrant colors and styles, they can appear unnaturally uniform, although manufacturers are trying for a more random look. Estimated cost: $100 – $185 per square foot.

Ceramic tile.

Tile comes in a wide selection of colors and patterns, mixes nicely with other materials and works well on a backsplash or island top. Not only is it inexpensive, but it also offers excellent heat resistance. While the grout is likely to stain even when it's sealed, darker grout can help. Edges and corners can chip, so buying a few extra tiles will allow you to repair localized damage easily. Estimated cost: $20 – $75 per square foot.

Butcher block.

Handy for a lot of chopping and dicing, these mostly maple countertops are lovely, but they do sustain damage from heat, cuts, scrapes and impact. They should also be varnished and treated regularly with mineral oil or beeswax. Estimated cost: $35 – $200 per square foot.
Beautiful and classic, marble takes on a patina over the years that some may see as marred. While it chips and scratches relatively easily, small nicks and scratches can be polished out. Estimated cost: $125 – $250 per square foot.

Stainless steel.

Very resistant to heat and stains, this material gives kitchens a sleek, commercial look. While stainless steel does show dents and scratches, the material can be welded, ground or buffed. Estimated cost: $75 – $140 per square foot.
Generally custom-formed, concrete can be tinted and textured. Not only does it chip and scratch easily, but it can also develop hairline cracks. Topical sealers can protect against stains but not heat; penetrating sealers can handle heat, but not stains. Estimated cost: $70 – $140 per square foot.