Existing-Home Sales: A Dim End to a Bright Year
Posted by Erik Ymer on Thursday, January 25, 2018 at 9:33 AM
By Erik Ymer / January 25, 2018
Comment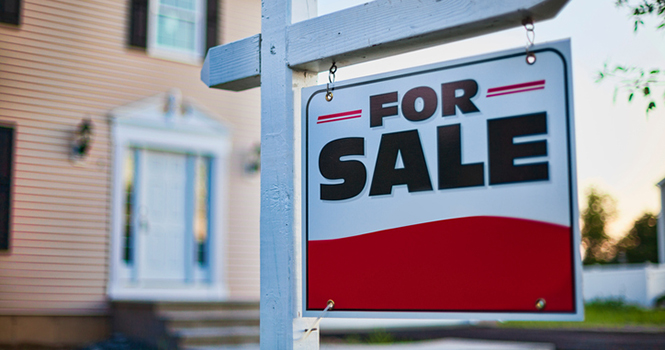 Existing-home sales in December dimmed, but, for the year, were at a record not seen in 11 years, the National Association of REALTORS® (NAR) reports.
Existing-home sales in December totaled 5.57 million, a 3.6 percent decrease from November, but a 1.1 percent increase from one year prior. Inventory decreased 11.4 percent to 1.48 million, 10.3 percent lower than one year prior.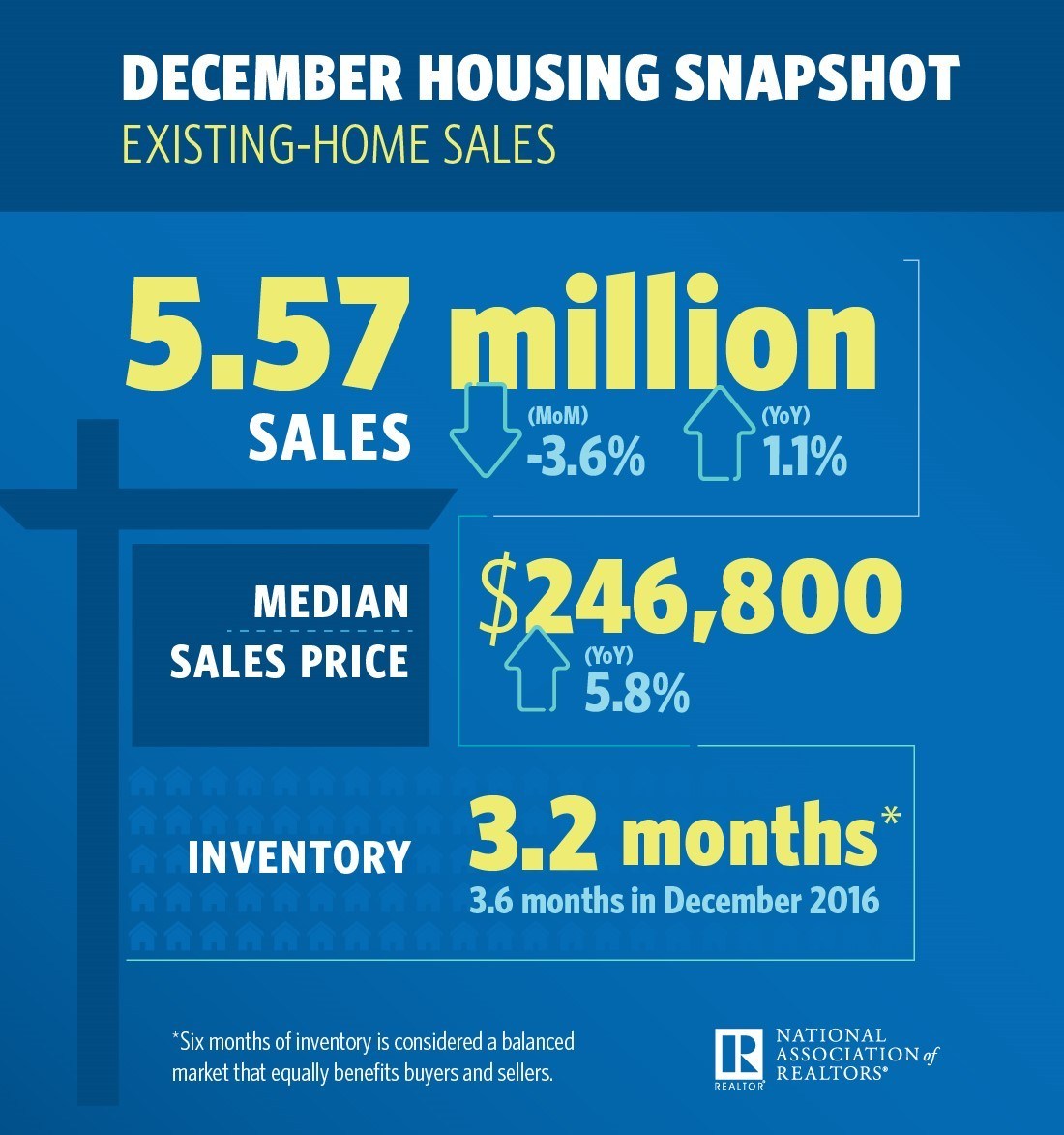 "Existing sales concluded the year on a softer note, but they were guided higher these last 12 months by a multi-year streak of exceptional job growth, which ignited buyer demand," says Lawrence Yun, chief economist at NAR. "At the same time, market conditions were far from perfect. New listings struggled to keep up with what was sold very quickly, and buying became less affordable in a large swath of the country. These two factors ultimately muted what should have been a stronger sales pace.
"Closings scaled back in most areas last month for this same reason," Yun says. "Affordability pressures persisted, and the pool of interested buyers at the end of the year significantly outweighed what was available for sale."
"Last year was a banner year for home sales," says Joseph Kirchner, senior economist for realtor.com®. "Strong employment and millennial demand pushed them to their highest level in 11 years. The drop we saw in December home sales is not surprising after the spikes we've seen over the last two months. Many unsuccessful summer buyers stayed in the market well into the fall, which led to higher October and November sales. Unfortunately, the fall frenzy didn't leave much for December buyers, which is what you're seeing in [these] numbers. You can't buy a home if there's nothing to buy."
"Excluding the run-up to the housing bubble, last year was the best year for home sales so far," says Ruben Gonzalez, economist for Keller Williams. "The current strength of the employment situation and consistent economic growth leads us to believe that the fundamentals driving demand for homes in 2018 will remain strong. Low inventory remains an issue for existing homes and may constrain sales if it persists throughout the year. We have seen persistent but slow improvement in construction of new homes, but so far demand for existing homes continues to outpace the addition of new inventory, especially in the entry-level price ranges. Overall, we look forward to 2018 being another strong year for home sales, likely similar in magnitude to the previous two years."

Inventory is currently at a 3.2-month supply. Existing homes averaged 40 days on market in December, 12 days less than one year prior. All told, 44 percent of homes sold in December were on the market for less than one month.
"The lack of supply over the past year has been eye-opening, and is why, even with strong job creation pushing wages higher, home price gains—at 5.8 percent nationally in 2017—doubled the pace of income growth and were even swifter in several markets," says Yun.
The metropolitan areas with the fewest days on market and most realtor.com views in December, according to realtor.com's Market Hotness Index, were San Jose-Sunnyvale-Santa Clara, Calif., San Francisco-Oakland-Hayward, Calif., Vallejo-Fairfield, Calif., Colorado Springs, Colo., and Stockton-Lodi, Calif.
The median existing-home price for all types of houses (single-family, condo, co-op and townhome) was $246,800, a 5.8 percent increase from one year prior. The median price for an existing single-family home was $248,100, while the median price for an existing condo was $236,500.
Single-family existing-home sales came in at 4.96 million in December, a 2.6 percent decrease from 5.09 million in November and a 1.0 percent increase from 4.91 million one year prior. Existing-condo and -co-op sales came in at 610,000, an 11.6 percent decrease from November and a 1.7 percent increase from one year prior.
Twenty percent of existing-home sales in December were all-cash, with 16 percent by individual investors. Five percent were distressed.
All four of the major regions had lower sales in December, with existing-home sales falling 7.5 percent to 740,000 in the Northeast, with a median price of $261,400; 6.3 percent to 1.33 million in the Midwest, with a median price of $191,400; 1.7 percent to 2.30 million in the South, with a median price of $221,200; and 1.6 percent to 1.20 million in the West, with a median price of $367,400.
First-time homebuyers comprised 32 percent of existing-home sales in December, up from 29 percent in November.
"Rising wages and the expanding economy should lay the foundation for 2018 being the turning point towards an uptick in sales to first-time buyers," Yun says. "However, if inventory conditions fail to improve, higher mortgage rates and prices will further eat into affordability and prevent many renters from becoming homeowners."