Existing-Home Sales: Hello, 2015…
Posted by Erik Ymer on Friday, July 26, 2019 at 1:00 AM
By Erik Ymer / July 26, 2019
Comment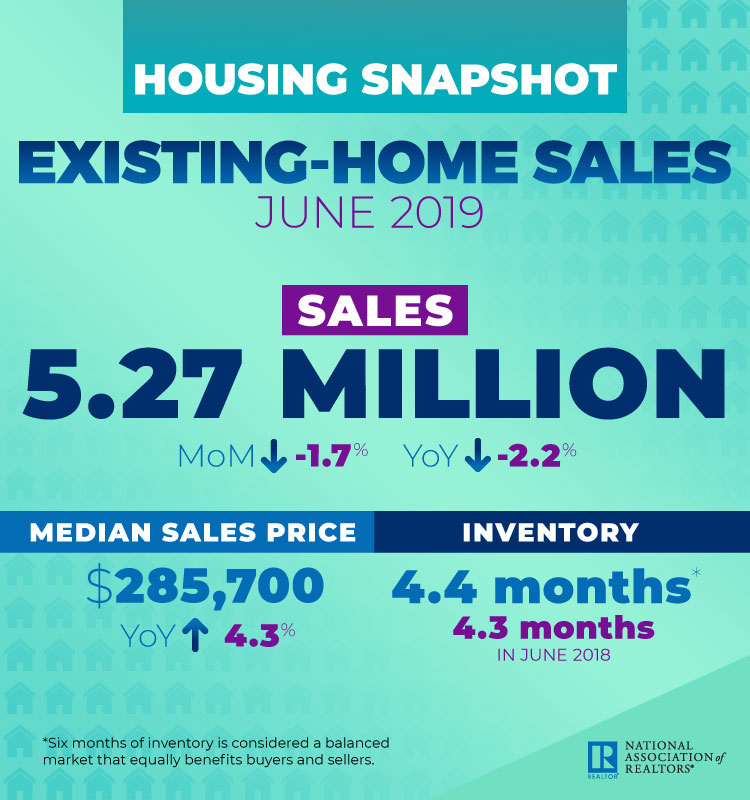 With inventory still stubbornly tight, existing-home sales sank 1.7 percent, according to the June National Association of REALTORS® report, newly released. Compared to June of last year, sales underwhelmed, down 2.2 percent.
We're in familiar territory, according to Lawrence Yun, chief economist at NAR.
"Home sales are running at a pace similar to 2015 levels—even with exceptionally low mortgage rates, a record number of jobs and a record high net worth in the country," says Yun. "Imbalance persists for mid- to lower-priced homes with solid demand and insufficient supply, which is consequently pushing up home prices."
Although inventory in June picked up—1.93 million, according to NAR's report—the amount of for-sale homes has not materially risen year-over-year.
"Either a strong pent-up demand will show in the upcoming months, or there is a lack of confidence that is keeping buyers from this major expenditure," Yun says. "It's too soon to know how much of a pullback is related to the reduction in the homeowner tax incentive."
Across all house types (single-family, condo, co-op and townhome), June's median price was $285,700—a new record, and a 4.3 percent increase year-over-year, the report shows. The median price for sales in the single-family space was $288,900; the condo median was $260,100. By region:
Midwest
Existing-Home Sales: 1.25 million (-1.6% YoY)
Median Price: $230,400 (+6.7% YoY)
Northeast
Existing-Home Sales: 680,000 (-4.2% YoY)
Median Price: $321,200 (+4.8% YoY)
South
Existing-Home Sales: 2.25 million million (-0.4% YoY)
Median Price: $248,600 (+4.9% YoY)
West
Existing-Home Sales: 1.09 million (-5.2% YoY)
Median Price: $410,400 (+2.3% YoY)
Currently, inventory is at a 4.4-month supply, the report shows. In June, the average listing was on the market for 27 days, one day longer than the prior year. Fifty-six percent of homes were on the market for less than one month.
Of June's sales, 4.69 million were single-family—a decline from 4.67 million the month prior, and from 4.77 million year-over-year. Condo and co-op sales totaled 580,000, a 6.5 percent drop year-over-year. Sixteen percent of sales were all-cash, and 10 percent by individual investors. Two percent were distressed. First-time homebuyers comprised 35 percent of sales.
"Historically, [today's] rates are incredibly attractive," says NAR President John Smaby. "Securing and locking in on a mortgage now—given the current, favorable conditions—is a decision that will pay off for years to come."
For more information, please visit www.nar.realtor.