How to Childproof Your House
Posted by Erik Ymer on Monday, October 8, 2018 at 7:26 AM
By Erik Ymer / October 8, 2018
Comment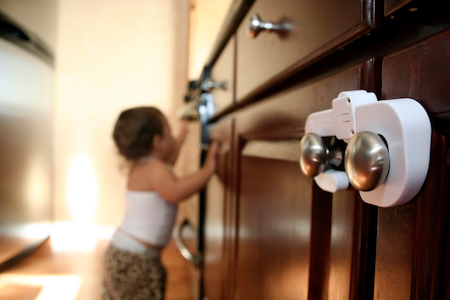 Children are often oblivious to the many dangers around them. Accidents in the home are a leading cause of injury and death among children. Here are a few ways to childproof your home and keep your little one safe.
Potential Hazards
Look at your home from a baby's or toddler's perspective. Ask yourself: What would catch my eye if I were low to the ground? Look for those things that your child would reach for, pull down, play with or put in their mouth.
When babies are learning to walk, they grab furniture and bookcases for support. Many injuries and deaths occur each year when young children pull on furniture or televisions and the objects fall on top of them. Secure heavy objects to the walls to prevent this. Keep dressers and filing cabinets closed when you're not using them. Cover sharp corners on furniture to prevent injuries if your child falls.
Use childproof gates to keep your baby or toddler out of hazardous areas, such as specific rooms or stairs. Choose gates that are difficult to climb and do not have V-shaped openings, which can trap children.
Open windows from the top or keep them closed. A screen is not strong enough to prevent a child from falling out of a window. Do not place furniture near windows because that can make it easy for a child to climb onto a windowsill. Children can be strangled by cords on blinds. Use window coverings without cords.
Outlets are a common source of injuries. Children are tempted to play with them and stick objects in the openings, which can lead to electrocution. Use outlet covers with safety latches to protect your child.
Store any medications, vitamins, cleaning supplies or other chemicals in cabinets with childproof locks to keep them out of reach. Properly dispose of any expired medication. Store the phone number for your local poison control center in your cell phone.
A child can drown in just a few inches of water. Never leave a child unattended in a bath, even if he or she is sitting in a chair. Install a latch on the toilet's lid to keep it closed. If you use a bucket of water for cleaning, never leave it unattended and dump it as soon as you finish. Always supervise a child using a pool or kiddie pool.
Install smoke detectors throughout your house and check the batteries regularly. When your child is old enough, explain the dangers of fire and how to prevent accidents and injuries. Never allow a child to touch the stove. Put away any appliances that use heat, such as a hair dryer and curling iron, when they're not being used.
Look Around Your Home
Your child will want to explore your house as soon as they're able to crawl. Dangers are everywhere, and they will increase as your child becomes more mobile. Take the time to childproof each room in your home to prevent accidents.