How to Spot Foundation Problems
Posted by Erik Ymer on Thursday, July 26, 2018 at 6:45 AM
By Erik Ymer / July 26, 2018
Comment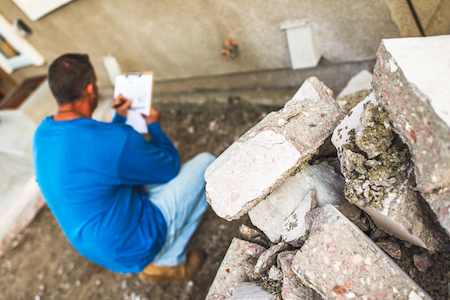 The foundation provides support for your entire house, so keeping it level and in good condition is critical to the protection of the entire structure and the safety of your family. A foundation can become damaged by a variety of problems and natural occurrences. If you notice any of these warning signs, you should have your foundation inspected as soon as possible.
Cracks
The most glaring sign of a foundation problem is cracking in the foundation, walls or floors. This can be a result of movement in the soil that causes the house to sink. Even if a crack appears small, it can indicate that there is a serious problem. This should be addressed as soon as possible.
Settling or Heaving
You may notice that the house is settling or sinking on one side. This indicates a significant foundation problem that can result in safety issues. Ignoring even a small change will only allow the problem to get worse.
Sometimes the opposite happens and the foundation moves upward. You may notice that hallways, doors or garage walls are no longer level. This problem can be caused by expansion and contraction of the soil under the house or by moisture issues.
Moisture in the Crawl Space
You may notice excessive moisture, mold and mildew in your crawl space and may smell a musty odor inside the house. This problem can be addressed by improving the drainage system.
Problems Inside the House
The floors may sag or become uneven. This can be dangerous, especially for children and people with limited mobility, because it raises the risk of falls and injuries.
You may notice that the doors are difficult to open and close or do not line up properly. While this is common after a heavy rainstorm because of moisture in the air, if it happens during dry weather, it could be a sign of an issue with the foundation. You may see gaps around the window frames or exterior doors, or you may no longer be able to lock doors—this creates obvious safety concerns.
If you notice that your cabinets and counters are separating from the walls, that is a sign of a foundation problem. Even a small amount of movement can indicate that there is a serious issue.
Have Your Home Inspected
A foundation problem is something that needs to be taken seriously. Even something that seems like a minor change can be a sign of a significant structural issue. If you notice any of these signs, contact a local contractor immediately to have your house inspected. It's necessary to correct foundation issues quickly to avoid further problems and prevent major structural damage.