How to Upgrade Your Kitchen on a Limited Budget
Posted by Erik Ymer on Wednesday, September 25, 2019 at 6:17 AM
By Erik Ymer / September 25, 2019
Comment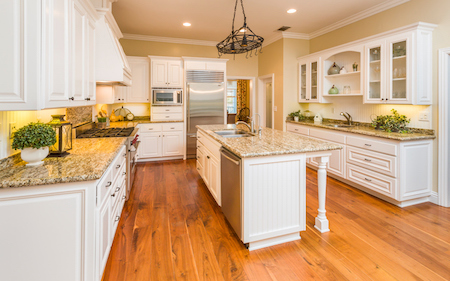 For many families, the kitchen is the focal point of the home. Since it's used so frequently for cooking and sharing meals, the kitchen should be warm, inviting and well organized. If you're unhappy with the current state of your kitchen, you can make some improvements without breaking the bank.
Paint
One of the easiest and most cost-effective ways to brighten up your kitchen is to paint. If you're tired of plain white walls, consider a brighter color, or paint an accent wall with a vibrant hue that will catch people's attention.
Kitchen cabinets can become faded and dull over time. If your cabinets are looking worn, you do not have to replace them. A fresh coat of paint can be enough to make them look like new.
Change Hardware
Another way to beautify your kitchen is to replace the hardware. The faucets, cabinet door handles and drawer knobs can become worn from daily use. They can also look dated if they haven't been replaced for many years. Replacing the hardware with shinier pieces in different styles can make you feel like you have a new kitchen.
Improve Lighting
Good lighting in the kitchen is essential. If your kitchen doesn't get a lot of natural light, or if it's hard to see in the evening or in certain areas, consider upgrading the light fixtures. You can find a wide array of inexpensive options that can improve the lighting in your kitchen and allow you to infuse it with your own style.
Get Organized
Organization is essential to enjoying a kitchen. It can be frustrating to have to search for an ingredient, pan or utensil when you're preparing a meal. If your cabinets and drawers are disorganized, you can get things in order by using removable shelves or drawer organizers. You can also install fixtures to hang pots and pans so they're easily accessible.
Other Upgrades
If you have more money to spend, you might want to consider installing one or more new appliances. Replacing an old appliance can make your kitchen feel like new. It can also save you money in the long run since a new appliance will likely be more energy-efficient.
If the flooring is worn and you have the funds available, you can replace it. A new tile floor looks much better than linoleum. You can choose a color and pattern that will complement the rest of the improvements you're making.
Upgrade Your Kitchen on a Budget
Since you spend so much time in the kitchen, you want it to be a place that you enjoy looking at and where it's easy to work. Upgrading a kitchen doesn't need to be expensive. Even if you have a limited budget, you can make some simple changes that can make you feel like you have a brand-new kitchen.