Inexpensive Ways to Add Value to a Home Before Selling It
Posted by Erik Ymer on Tuesday, May 21, 2019 at 1:00 AM
By Erik Ymer / May 21, 2019
Comment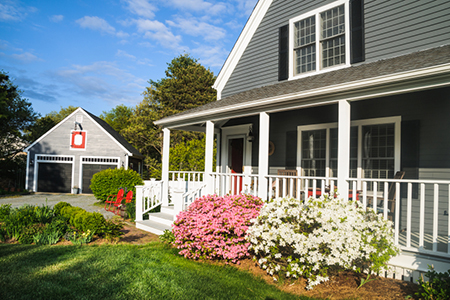 Your home is your castle. Sometimes, however, it can feel a little less regal than you'd like it to.
Outdated fixtures or not having enough space or light, among other things, can make a home feel tired and old. For about $100 or less, many features of a home can be improved to help add value to a home when selling it.
You won't be able to expand the dining room on the cheap, but there are some simple improvements that can spruce up a house cheaply and quickly:
Update fixtures
Start in the kitchen, which is one of the first areas home buyers look at. Replace the kitchen sink faucet, replace cabinet door handles or install a new sink if you can find a deal on one.
Bathroom fixtures such as towel racks and toilet paper holders can be easily replaced, and a new toilet seat is cheap.
Lights, air
Replace old lights with a ceiling fan/light combo, or install a nice chandelier in the dining room, for example. These can cost $300 or so, but if you only need to make one change, this is the one that can pay off.
Add storage
Old homes often don't have much closet space. Buy $100 worth of wire shelves and install them yourself and you've got a closet that at least makes the space look organized.
Check leaks and electrical
Hire a plumber or electrician for an hour to check your electrical services and plumbing. They can make sure everything is safe and working properly so that a potential buyer doesn't find a leaking faucet or broken light switch or faulty outlet.
Carpet
Buying new carpet can be expensive, but an area rug can be just enough to cover an area showing serious wear. Even if you can afford it, installing wall-to-wall carpeting before selling your house isn't recommended by most real estate agents because the new owners may want to choose their own style.
You can get your carpet professionally cleaned for a few hundred dollars, or maybe less if you can find a coupon. If your carpet is in good shape, a professional cleaning may be all it needs to look in top shape.
Curb appeal
Plant flowers, mow the lawn, pull weeds and sweep the walkway in front of your house. It will give viewers a strong first impression and can be done for much less than $100.
If all of that doesn't work, bake cookies at home on the day of the home showing.
Hope you found this helpful! Contact me for more insights and info.