Interior Paint Finishes: Choosing the Right Options for Your Home
Posted by Erik Ymer on Tuesday, March 26, 2019 at 1:00 AM
By Erik Ymer / March 26, 2019
Comment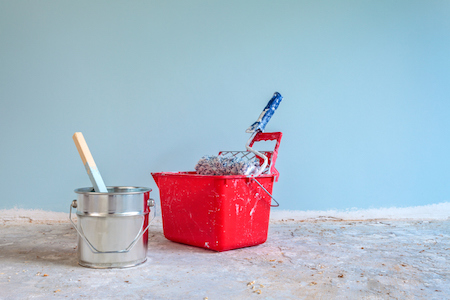 You've agonized over color choices and made your final decision. Now comes the question of which finishes are the best for every area you plan to paint. With six different finishes to choose from, the decision may not be as simple as you think. The house painting experts at Home Depot offer a primer (no pun intended) on paint finishes and where to use them:
Flat Finish
This paint has a matte finish that reflects no light, making it great for most interior walls. It is especially good if you need to camouflage small wall imperfections. While flat paint is more or less washable, you may want to keep some extra around for touch-ups if and when needed.
Flat Enamel
This paint has a durable, flat, matte finish. It's a good choice for powder rooms and halls, as it adds a little glitz and holds up to cleaning.
Eggshell Finish
This is a middle of the road choice between flat and flat enamel. If you can picture the low sheen of an egg shell, you'll have an idea of what this finish looks like. With only a slight hint of shine or gloss, it's good for most walls and holds up better with cleaning than flat finish paint.
Satin Finish
This paint has a smooth, velvety look with a bit more gloss. It is most often used for windows, doors, trim, or ceilings, but can also be used as wall paint. It's a good choice for the walls of kids' rooms, kitchens or bathrooms, or in areas that get a lot of traffic as it's formulated to hold up to cleaning and light scrubbing.
Semi-Gloss
Most often used on doors, trims and cabinets in both kitchens and bathrooms, this paint is easily cleaned and offers a subtle shine. It works best when applied to a nice, smooth surface, so take care with pre-paint preparation.
Glossy Finish
High gloss paints have an almost reflective quality, as their very shiny finish mimics the look of enamel or plastic. Though not widely used in home interiors, it is becoming more popular for a dramatic look on cabinets, trims and furniture in formal and very contemporary settings. Preparation may need to include sanding, as this finish will magnify any surface imperfections.