Kitchen Problems to Look for before Buying a Fixer-Upper
Posted by Erik Ymer on Tuesday, April 10, 2018 at 7:59 AM
By Erik Ymer / April 10, 2018
Comment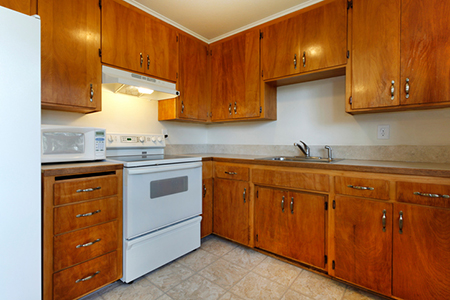 A minor kitchen remodel such as changing hardware, resurfacing cabinets and other minor improvements can earn a return on investment of 83 percent, according to the 2016 Cost vs Value Report by Remodeling Magazine.
An 83 percent return means that for every $100 spent on improvements, the home's value increases by $83, on average. That won't pay for the remodeling project itself, but it can help sell a home that can be difficult to sell and help it command a higher price, making purchasing a fixer-upper home to flip worthwhile.
But how do you know if the kitchen—one of the most used areas of a home—has major problems and needs a major overhaul instead of minor repairs? A minor kitchen remodel costs $20,000, compared to $60,000 for a major remodel (which has about a 65 percent return rate), according to the report.
Here are five big-ticket items to look out for:
Water damage: Mold and other signs of water damage in a kitchen can indicate plumbing problems such as leaking pipes. Hire a home inspector to review the plumbing to ensure that any leaks that led to damaged floors have been repaired correctly.
Bad cabinets: If your goal is to flip a house, then kitchen cabinets are some of the first things you want working and looking great because they're easily seen by home buyers and can give a first impression of what condition a kitchen is in. Check if the cabinets are rotted and need to be completely replaced, or if refinishing them will suffice.
Lousy flooring: The kitchen floor will likely have to be replaced on any fixer-upper home. If the linoleum flooring is peeling back or just looks lousy, then plan to replace it and add the cost to your budget.
Asbestos pipes: Asbestos was once commonly used to insulate pipes so they wouldn't freeze in the winter. If the house you want to flip is old, you can expect to see asbestos start to break down. Fixing this can be expensive, mainly due to environmental requirements when removing asbestos. This problem could be a deal-breaker and may cause you to drop the deal on this house.
Appliances: Old appliances are more likely to break than new ones, and new owners may be willing to pay extra for the peace of mind of having stoves, dishwashers and other appliances that will definitely work. Check if existing appliances work, and if they don't, then plan on adding to the cost of the kitchen remodeling.