Kitchen Upgrades Worth Their Weight in Resale Value
Posted by Erik Ymer on Thursday, February 21, 2019 at 8:00 AM
By Erik Ymer / February 21, 2019
Comment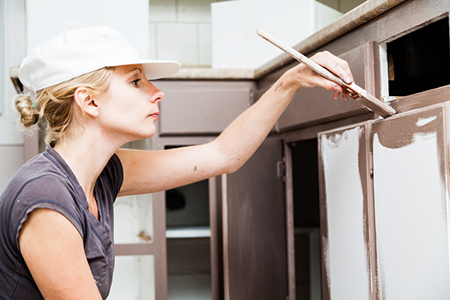 If a kitchen renovation is on your radar screen, and you plan to stay in your home long-term, you can figure on spending $20,000 or more – especially if you plan to rip out counters and re-configure your space.
But if you're thinking of upgrades that increase your home's resale value, as well as your own enjoyment, there's a lot you can do at minimal cost to bring your kitchen up to date.
Designers advise putting your money into six specific areas to get the most bang for your update buck:
Appliances – Replace basic white or black appliances with stainless steel, which will not only update the look of your kitchen but will likely be more energy efficient.
Cabinets – It's amazing what a coat of white paint will do to make your kitchen pop. But if tired, old cabinets are beyond painting, re-facing them will save you big bucks over replacing them.
Hardware – Replacing standard cabinet hardware with fresh, bold designs is the easiest (read, 'cheapest') way to upgrade the look of any kitchen. Choose hardware that's trendy, like brass, which is making a comeback, or contemporary styles that make a statement.
Countertops – High end stone and ornate beveling is in vogue and expensive, but granite is becoming more affordable. Shop around for a good deal and this upgrade may cost less than you think.
Backsplash – A snazzy backsplash is a focal point in the kitchen, and the right one can draw the eye away from kitchen flaws that might otherwise be glaring. Choose subway tile, which is a classic and sought-after option, or add a splash of color with a variety of reasonable materials available at most home stores.
Lighting – An instant style makeover can be as simple as replacing that old overhead fixture with recessed lighting, under-counter lighting, and/or new accent lighting over a breakfast bar or kitchen table.