Late Summer Landscaping Tips
Posted by Erik Ymer on Thursday, August 2, 2018 at 5:45 AM
By Erik Ymer / August 2, 2018
Comment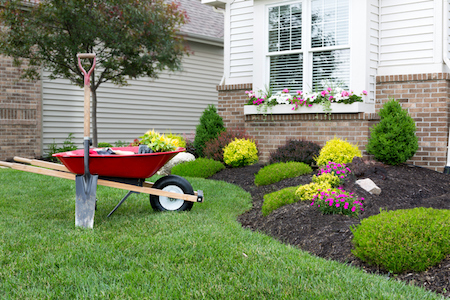 The dog days of summer are upon us—an excellent chance to show your landscaping some love since it's probably in need of attention.
Long stretches of heat and sunshine can take a toll on grass, flowers and plants. Anyone who's selling a home needs to take some extra steps over the last few weeks of summer to keep the outside of their home looking top notch.
Here's how you can keep your outdoors blooming during this hot and dry time of year.
Water, Water, Water
Although obvious, plants need water and that can sometimes be overlooked. Be sure to thoroughly water your lawn, flower beds, outdoor plants and garden. The best time to water is early in the morning when the air is a bit cooler. If you water in the heat of the day, the sun will quickly dry up the water, and watering at night can promote the growth of fungal and bacterial diseases.
Keep Your Lawn Green
People selling a home can't afford to look the other way as their grass turns brown. All sorts of things can damage your lawn: foot traffic, pets, lack of water and weeds naturally dying off at this time of year. Seeds, fertilizers and other lawn-care products can help with these issues. Lawn repair mixes are another option, and some promise results in just a few days. Another solution is to lay down sod in particularly bad areas.
Replace Dying Plants
When spring arrives, we can't wait to get outside and plant flowers in garden beds in order to bring color and beauty to our yards. But let's face it, when August arrives, we're doing our best to avoid the heat, and a few unsightly plants don't seem like a problem with fall around the corner. Home sellers need to be vigilant, however. If you have plants that have seen better days, replace them, preferably with something that will continue to thrive well into the fall.
Clear Out Your Garden
If you have a vegetable garden, be sure to clear out plants whose yields are finished for the year. Also, make sure to clear out weeds, and lay down grass clippings to prevent weeds from growing back.
Trim Shrubs and Trees
If your landscaping includes shrubbery and bushes, be sure they're looking their best, and prune anything that's overgrown. Tree maintenance is also important. If you have trees with long branches that hang low, be sure to have them maintained, both for visual appeal and so that visitors don't walk into branches and leaves as they tour your home's yard.
It's all about keeping your yard alive and colorful, even when summer starts taking its toll.