Low Inventory, Rising Rates and a Bustling Spring Market
Posted by Erik Ymer on Friday, March 23, 2018 at 6:29 AM
By Erik Ymer / March 23, 2018
Comment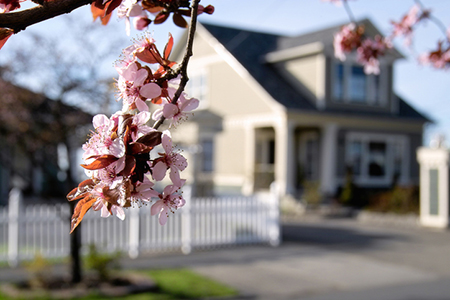 Spring is here, and, with it, a busy home-buying and -selling season. While real estate markets can vary widely by region, housing is currently seeing similar developments across the country.
The Kiplinger Letter, an online source for personal finance advice and business forecasts, recently shared spring market trends. According to Kiplinger's David Payne, staff economist, and Rodrigo Sermeño, reporter, REALTORS® can expect tight inventory, increased buyer competition and a rise in interest rates across the board this spring.
The biggest obstacle? Not enough homes, particularly in heavily-populated areas and others that are growing quickly.
"Buyers should expect tight inventory of existing homes across the nation, particularly in fast-growing metro areas such as Denver, Dallas, Seattle and Portland—but also most major metros in the West and in the South," say Payne and Sermeño.
Buyers are out in full-force, and with less inventory to choose from, they are flocking to any available homes in their price point and submitting aggressive bids.
"Buyers should expect more competition for entry-level homes, both existing and new," Payne and Sermeño say. "Tight inventories of existing homes will likely lead to bidding wars in many markets."
What the industry sorely needs right now is new construction, and that's where the South is prospering.
"The South is seeing strong growth in residential construction, including starter homes," say Payne and Sermeño. "Builders are gradually adding entry-level homes in certain markets in the South, such as Dallas, Phoenix and Atlanta. Some builders are focusing on peripheral areas around these cities, where it is cheaper for them to build entry-level homes."
According to The Kiplinger Letter, buyers in the South and West can expect new homes on the market later this year, especially duplexes and townhomes; however, new-construction growth is generally slow across the U.S. due to high costs and insufficient land to build.
"Builders will continue to gradually bring starter homes to the market, but the rising cost of labor and building materials will make it difficult," Payne and Sermeño say.
While skyrocketing prices have been a concern with tight inventory, REALTORS® can breathe a small sigh of relief, as growing home prices seem to be slowing down, if only slightly, for the foreseeable future.
"Home price growth will slow a bit, to 5 percent from 6.5 percent last year," say Payne and Sermeño. "Price appreciation has been strong for a while, and some areas are seeing demand hurt by affordability problems, especially for high-end homes; however, the slowdown this year will only be modest because of continuing lack of inventory, especially at the low-to-middle price ranges."
REALTORS® are watching the market closely, as one factor could change the status of today's market. Rising interest rates are homebuyers' biggest concern and contributing to this spring's flurry of home-buying activity.
"The prospective rise in interest rates this year and next is actually boosting buyer demand to purchase before rates rise further, according to REALTOR® surveys," Payne and Sermeño say. "Next year, once it appears that mortgage rates will be stabilizing, then the higher rates will have a somewhat depressive effect on prices and demand."