Maintaining Cleanliness During a Summer Sale
Posted by Erik Ymer on Friday, June 15, 2018 at 8:34 AM
By Erik Ymer / June 15, 2018
Comment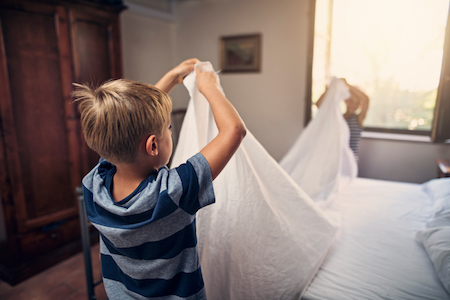 Summer is almost here and that means your children are getting a long vacation from school. For the kids, it's the best time of year. But it can complicate things for those whose houses are on the market.
It only makes sense that having more people in the home will chip away at your efforts to perfectly stage everything for potential buyers. Kids are home during the summer, and keeping them active and busy during these next few months is important to a lot of parents. But that doesn't mean your home can't look its best. Follow these tips to keep your home ready for visitors without interfering with summer fun.
Talk with your kids. Parents are always telling kids to clean up after themselves, and often those requests get ignored. As school ends, take the time to tell your kids that they need to pitch in more, so that the house can look its best while it's up for sale. Making them part of the process will not only get them to contribute to your efforts to maintain a nice home, but it also teaches them responsibility.
Set rules for bedrooms. Obviously, people touring your home will be looking at bedrooms. In addition to any staging steps you take, make sure everyone is making their beds, putting clothes in drawers and closets, keeping toys in storage, books in bookcases, and keeping desk areas neat and organized. These rooms should also be dusted and vacuumed regularly.
Keep all rooms clean. Kids need to clean up after themselves in all areas of the house. For example, let's say a kid or teen has a snack in the kitchen—teach them to wipe down counters, clean dishes (or at least put them in the dishwasher), and to put bottles and jars back in the fridge, or packages back in the pantry.
Organize the pool area. If you have a pool, the backyard is going to be a very busy area during the summer. It's also a potential selling point, so prospective buyers are going to want to see it. Keep the area tidy and clean. Tell kids to put away rafts, noodles and all pool toys when they aren't using the pool. They also shouldn't leave towels lying around and should make sure all chairs and tables are arranged neatly.
Plan outings during peak visiting times. In addition to clearing the house during open house hours, consider taking your kids to the beach, park, movie or for some fun activity on weekends, when you're likely to have a lot of visitors. This will leave your house looking good, and also encourage family time during the summer.