Making the Most of a Small Backyard
Posted by Erik Ymer on Wednesday, June 13, 2018 at 8:00 AM
By Erik Ymer / June 13, 2018
Comment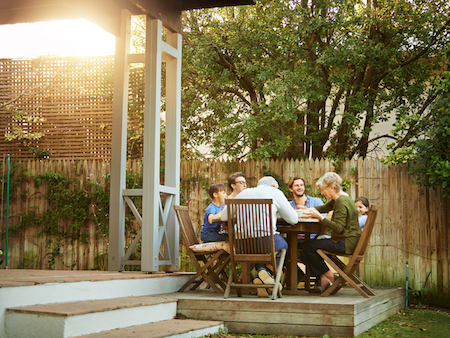 Summer weather brings backyard suppers to mind; picnic favorites, savory barbecues, chicken roasting on a spit. But it calls out for company, and entertaining can be difficult at best when you're dealing with a small backyard.
Cheer up if you're dealing with a mini-backyard. Here are some practical tips for making the most of a small outdoor space and entertaining friends with panache:
Add some greenery. Open up the look of a cement patio by adding a faux-grass rug. It will offer the illusion of a lush green lawn and make your patio space look bigger than it is.
Try coffee can planters. Plant seasonal flowers in coffee cans or colorful small containers. Affix the planters to a patio fence or on a wooden trellis to add color without taking up space. (Or use mason jars to plant an out-of-the-way herb garden.)
Install a Murphy bar. Know how a Murphy bed folds down from the wall? Install a folding Murphy bar outside your kitchen window. Fold it down and add bar stools or chairs when you are ready to dine "al fresco."
Create cozy seating. Search big-box home stores for small indoor/outdoor chairs you can group for conversation in a cozy space—and around a folding table when it's time for dinner.
Set the scene. Create a cozy evening setting in a small space with lights. String lights overhead, if you like, or use votive candles in jelly jars or other strategically placed glass containers to help set the mood.
Shrink the table setting. Use the smallest table you can find to seat the number of guests you want. Tape or tie down the tablecloth and set the table with small or undersized disposable tableware. Save space by skipping a floral centerpiece in favor of a pretty basket of rolls or a glass bowl of fresh fruit instead.