Sherwin-Williams' Top 6 Colour Palettes for 2019
Posted by Erik Ymer on Wednesday, July 25, 2018 at 6:32 AM
By Erik Ymer / July 25, 2018
Comment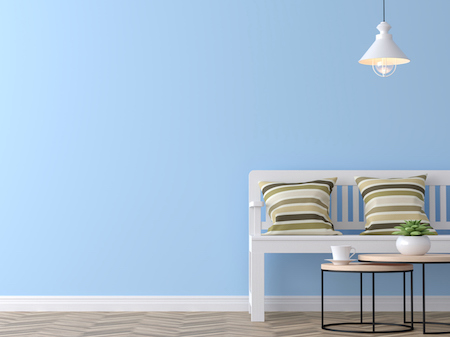 Wall colour is one of the first things buyers see when they enter a home. It's also one of the quickest ways to establish a mood. Whether you want your home to feel stately and elegant, fresh and modern, or anything in between, the colour of your walls can play a big role.
So, if you're a seller eager to grab a paintbrush and give your home an edge, you'll be happy to know that Sherwin-Williams recently released their annual Colormix Color Forecast. They're predicting these six colour palettes will be the most popular in 2019:
Shapeshifter
Featuring a selection of cool and modern blue tones, like Blue Sky, Celestial and Endless Sea, this collection also includes a contemporary yellow—called Nugget—and some neutral shades too. Sherwin calls this palette "visionary and creative," and says it aims to "capture the unique space between technology and spirituality."
Wanderer
Romantic and desert-inspired like the Canadian prairies, this collection features earthier tones, including Cavern Clay, Dark Clove and Caramelized. These shades would be a great way for sellers to warm up a living or entry space before putting their home on the market.
Aficionado
Want to give your den or bedroom a contemporary freshening up? Buyers will love this rich and sophisticated palette, anchored by dramatic shades like Merlot, Charcoal Blue and Ancestral Gold. It's the perfect blend of timeless and modern, evoking "a bookcase of leather-bound classics," according to Sherwin.
Enthusiast
While this bold and artistic palette might not appeal to the majority of buyers, some of these shades might be just the pop of colour your home needs to freshen up an accent wall or a guest bathroom. This eclectic palette features bright shades like Argyle (a vivid and cool green), Positive Red and Majestic Purple.
Naturalist
Lush and floral, yet still neutral, this palette would be a gorgeous way to highlight a small home or condo before putting it on the market. The modern tones will appeal to buyers, while the soft, botanical-inspired shades like Shitake, Delightful and Felted Wool will help spaces appear larger.
Raconteur
Influenced by global style such as spice markets and luxury safaris, this is a neutral palette that would look warm and inviting to buyers in almost any room. Rich, cotemporary shades like Rustic Red, Porcelain and Poised Taupe give it a warm and worldly vibe that's sure to brighten up even the coldest Canadian days.
Remember, paint colours set the tone in your home almost immediately, whether buyers are conscious of it or not. Get the best value for your home by updating major rooms with a fresh, contemporary palette.