Should You Paint or Stain Your Kitchen Cabinets?
Posted by Erik Ymer on Monday, March 9, 2020 at 7:37 AM
By Erik Ymer / March 9, 2020
Comment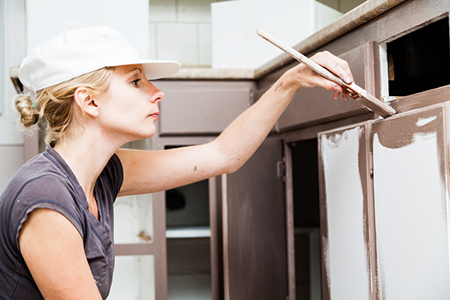 So you've got new kitchen cabinets. Congratulations! But now what? For those wondering how to finish their brand-spanking-new cabinets, we run down the pros and cons of painting vs. staining—the two most popular finishing avenues. The kitchen is one of the most important factors in your home's value, so consider how the following information impacts your real estate investment.

Pros for paint
– It's flawless. Regardless of the color you choose, painting your cabinets covers up any quirks or blemishes in the natural wood, which can often be magnified by staining.
– Your color choices are endless. When it comes to picking a paint, the world is your multi-colored oyster. Get crazy and really customize the look and feel of your cabinets.
– Paint sticks to lower quality materials. If your cabinets are not made of wood (think particle board), paint is your BFF. It sticks to these materials just as well as higher grade wood options, and no one but you will know the difference.

Cons for paint
– It looks more uniform. Remember those natural quirks we mentioned? Well you may not want to cover them up. If you're looking for a more natural, country vibe that highlights those stunning features like grain and knots, opt for a stain over paint.
– It's pricey. While not too expensive in the grand scheme, paint is more expensive than a stain, so if budget is a concern, take heed.
– Harder to touch up. Even if you can't find an exact match for your cabinet color, when you're working with stain, odds are you'll have better luck blending touch-ups in stain than with picky paint.