Spring Cleaning for the Spring Market
Posted by Erik Ymer on Thursday, February 8, 2018 at 9:04 AM
By Erik Ymer / February 8, 2018
Comment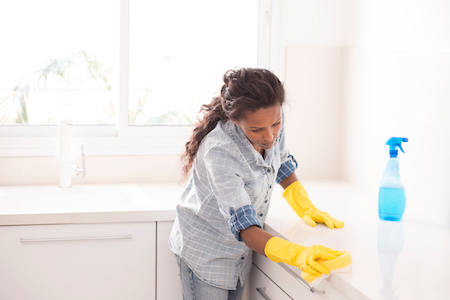 For those about to put their home on the market, there's nothing quite as beneficial as doing a thorough "spring cleaning" to get ready. This means getting rid of a lot of clutter that might distract a prospective buyer.
Below are five spring cleaning tips that can help spruce up your home for the sale.
Reduce the clutter. There's a reason that one of the first things an agent will tell you is to get rid of anything you don't need—clutter makes rooms look smaller and distracts potential buyers. This is the perfect time to throw out things you haven't used in years, donate items to Goodwill or even hold a garage sale to get rid of your "treasures" you can't seem to put in the garbage. Go room by room with the family and be ready to make some hard choices.
Think about your home's exterior. Most people associate spring cleaning with the inside of the house, but organizing the outside can be just as important when selling a home. This is especially true since the exterior is the first thing people see when coming to view the property. Mow the lawn and trim the bushes. Really spruce things up in the yard by bringing in some colorful flowers and putting out fresh mulch in flowerbeds. Take the time to clean your gutters, wash your welcome mat and put away any rakes or winter shovels that clutter the yard. Also, power wash your driveway, walkway, siding and deck.
Clean your windows. One phrase that should never be uttered during a home sale is, "I don't do windows." A clean window will bring more natural light into your rooms, which buyers tend to notice, and it also allows a clearer view to the outside. Make sure to clean both sides of your windows, include glass on sliding doors, garage windows and outside doors.
Paint where appropriate. Since you're cleaning the house anyway, now is a great time to add a new coat of paint in rooms that look faded—this will freshen up the walls. Neutral colors are always best when selling a home, and be sure to paint any rooms that are peppered with holes from picture frames or posters.
Remember to clean surfaces. All spring cleaning should include sprucing up the kitchen, bathrooms and bedrooms, but it's important to think outside the box, too. This is a great time to take care of those areas that don't get cleaned regularly, such as door frames, baseboards, walls and even underneath your furniture. Dust and clean every nook and cranny of your house to make sure it's ready for the prying eyes of a homebuyer.