Survey Finds Hidden Costs of Homeownership
Posted by Erik Ymer on Wednesday, February 21, 2018 at 8:11 AM
By Erik Ymer / February 21, 2018
Comment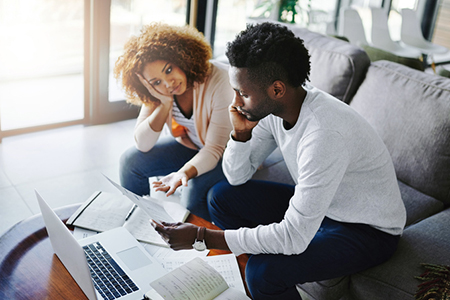 (TNS)—Your day burns brightly on both ends.
You prod your kids out of bed at daybreak, get them dressed, fed and off to school. You drive to work, endure meetings, colleagues, power lunches, memos and strategy sessions, only to return home through gridlocked traffic just as the sun sets, beg your kids to eat dinner, wash them, coax them to sleep, do the dishes and then mercifully collapse in front of the television set.
You fret over your emergency savings account, retirement savings account, credit card debt, mortgage rate, health insurance, college savings, and on and on.
It makes sense, then, you'd opt to pay a cleaning or lawn service every week to lighten your load. Hiring someone to keep your property in working order, either on your own or through homeowners association fees, doesn't come cheap, though.
More than three in five homeowners—63 percent—use at least one recurring home maintenance provider, while 35 percent use two, according to a recent Bankrate survey. The average homeowner pays $2,000 annually on maintenance services, the survey finds.
Costs of Owning a Home
The price of biweekly landscaping probably never factored into your calculus when deciding how much house you can afford.
The average home mortgage neared $250,000 last year, according to the National Association of REALTORS®, which came with a monthly principal and interest payment of $973, or about one-sixth of median family income.
Homeowners saw an average property tax bill of $3,300 in 2016, according to ATTOM's most recent data, adding another $275 to your monthly budget. You'll also owe hundreds more in insurance premiums depending on where you live and what type of house you own.
That doesn't even include the money you need saved in case something unexpected happens. If your air conditioning unit or washer and dryer gives out, you could immediately owe hundreds, if not thousands.
Kevin Mahoney, CEO of fee-only financial advice firm Illumint, recommends to designate a savings account as a "home maintenance fund." Mahoney, who recently bought a renovated row house in Washington, D.C., contributes $100 to $200 a month as a hedge against unexpected repairs and wear-and-tear. Maintaining a house fund will inoculate you against high-interest debt, leaving your budget open for routine maintenance services.
Cost You Probably Didn't Think About
After the years required to amass a sufficient down payment—the average among new homebuyers is 11 percent—and all the big costs staring homeowners in the face, it's little wonder if you don't account for smaller fare.
But the price tag for convenience can rise quickly.
People who opt for housekeeping shell out an average of $285 a month, while HOA dues ($210) and landscaping ($144) followed behind. A home security system costs $130, slightly more than pool care ($123). Snow removal ($84), septic service ($67) and trash and recycling collection ($55) proved more affordable.
Unsurprisingly, renters are less likely than homeowners to pay for recurring maintenance services, and when they do, they pay less for most services.
On average, renters pay less for housekeeping ($128), HOA dues ($71), pool care ($70), landscaping ($61) and snow removal ($24); however, they fork over a little more for security systems ($142), septic service ($113), and trash and recycling collection ($63).
Nate Masterson, a director of Finance for Maple Holistics, pays $1,000 annually for gardening services, and another $70 to clear his Riverside, N.Y., home of snow.
"It would require a lot of strenuous work to perform either task, and it's simply more worthwhile for me to pay a professional," says Masterson, 34.
Make Sure You Account for All Costs
Americans broadly struggle mightily to save.
The average person wouldn't pay for an unexpected $1,000 expense from their savings, per a recent Bankrate survey, while the median amount in a savings and checking account for a middle-income household has essentially remained flat over the past 27 years, according to Federal Reserve data.
Credit card debt recently hit an all-time high, while the personal savings rate has dropped precipitously over the past two years.
If you don't have a fully-funded emergency fund comprising three to six months' worth of expenses in a high-yield savings account, strongly consider suspending as many as these services as possible until you do. Dropping almost $300 a month on housekeeping while lacking $1,000 in the bank is simply too risky. What if the roof caves in? At the very least, start contributing to a home maintenance fund.
You may not have a say in other costs—trash collection and HOA fees were two of the three most common—but make sure to account for those expenses into your budget prior to moving in, and in your emergency fund.
Life's hard, and there's nothing wrong with paying someone else to mow your lawn. Unless you can't afford it.

©2018 Bankrate.com
Distributed by Tribune Content Agency, LLC