What You Need to Know About Flood Insurance
Posted by Erik Ymer on Wednesday, January 31, 2018 at 7:22 AM
By Erik Ymer / January 31, 2018
Comment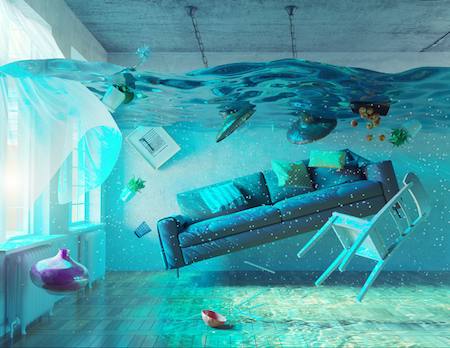 In the wake of Hurricanes Harvey and Irma, the latest storms to devastate thousands of American homes, homeowners may find themselves wondering whether to consider flood insurance.
For those in areas perceived as vulnerable, it's no decision since it's required as a condition of their home loan. For others, it raises the same questions as other types of insurance; namely, when does the premium outweigh the actual risk? A $650 annual premium, the amount the National Flood Insurance Program (NFIP) cites as average, seems like a lot to pay if you never use the coverage.
Since flood damage is not covered under the average homeowner policy, Nerdwallet, a consumer advisor website, tells USA Today what factors to consider in deciding whether to purchase flood insurance:
Even a minimum amount of flooding can have disastrous financial results. According to the NFIP, one foot of water could cause $27,150 of damage to a 1,000-square-foot home. That said, if you live in a low-risk zone that has never sustained serious flood damage, weigh the coverage cost against the likelihood of filing a claim. A reasonable option might be to set aside money in a repair fund—a good idea for homeowners in any case.
Consider having the amount you'd pay in premiums automatically deposited each month into a high-yield checking or money market account, which nets better returns than simply saving cash. And check with a financial advisor because some states allow customers to place emergency funds in Catastrophe Savings Accounts exempt from state income tax. (Federal taxes still apply, and disbursements are taxed as normal if withdrawn for purposes other than flood repairs.)
Where to Buy, How to Save
Available national (NFIP) or state programs may be best, but some private insurers offer flood insurance with lower premiums, so get quotes. You can save a little by choosing a higher deductible or less coverage. Just be sure you can come through with any needed cash.
The Bottom Line
If you live in a moderate to low-risk area, check with your financial advisor or real estate agent. A flood policy in such an area could cost less than your monthly cell phone bill, and could save you money if your home sustains flood damage.