When It Rains, It Pours—Protecting Yourself With an Umbrella Policy
Posted by Erik Ymer on Friday, December 15, 2017 at 12:57 PM
By Erik Ymer / December 15, 2017
Comment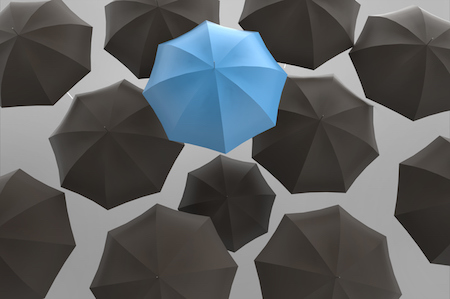 Just as an umbrella can protect you from the rain, an umbrella insurance policy can shield you from lawsuits if something unfortunate happens at your home.
Homeowners insurance usually includes some liability coverage to protect your assets if someone is injured at your home. Umbrella policies can go beyond the $300,000 liability insurance that most insurers require of a homeowners policy, according to the Insurance Information Institute (III).
If your home or assets are worth more than $300,000, or if you're worried that someone might injure themselves on your front step and will sue you for over that amount, then an umbrella policy could be worthwhile. The potential loss of future income is another consideration, since your future wages could be garnished in a lawsuit.
A $1 million umbrella policy can cost $150 to $300 per year, according to III.
Here are some of the things an umbrella liability policy can protect you from:
Swimming pool accidents
Trampoline accidents
Dog bites
Bodily injury
Property damage
Landlord liability
Vacant land (if an uninvited guest is injured on your property)
Owning a home business that clients visit
Construction on property
Slander and libel
Shock and mental anguish
False arrest
Malicious prosecution
A personal umbrella policy (PUP), protects your personal items and usually doesn't cover your business, even if it's a home business—a separate umbrella policy would be needed in this instance.
Depending on the type of umbrella policy you buy, there are some things that aren't typically covered. Your personal belongings that are damaged won't be covered, but someone else's will be.
Other areas that won't be covered by umbrella insurance include floods, health insurance, intentional crimes and written or oral contracts.
Wealthier individuals may have more reason to get an umbrella policy because they have more assets to protect. But even a homeowner with a modest-priced home may want to get an umbrella policy if their basic homeowners insurance doesn't have much liability coverage.
Since a home is usually your largest asset, it's important to insure it properly. If someone is injured on your property, for example, you don't want to be held liable for injuries and damages that could add up to more than the value of your home.