Will Your Next Home Insurance Adjustor be a Drone?
Posted by Erik Ymer on Monday, October 28, 2019 at 9:16 AM
By Erik Ymer / October 28, 2019
Comment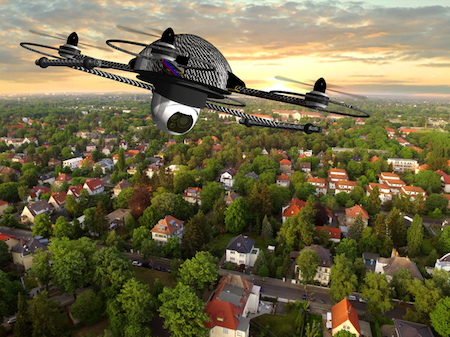 While many home insurers pride themselves on their quick response times, companies are often looking for better ways to serve their customers. Drones are now entering the industry as a new way to improve the claim inspection process.
The innovative technology allows these gadgets to fly above a home that has recently had its roof torn apart by high winds, for example, and take photos and videos that can be sent to a claims adjustor's phone or tablet, making the claims process faster and more efficient.
A drone can be safer than having an inspector climb onto a roof with a ladder, especially for multiple-story buildings or a steep roof that can take more time and requires specialized equipment. Photos can be taken in a few minutes with a drone, cutting the claims process from almost two weeks (depending on the company) to less than a day.
Insurance companies that use drones to inspect damaged homes include Allstate, Farmers, Erie Insurance, Liberty Mutual, Travelers and USAA.
An Allstate executive told NerdWallet that using drones to access spring storm damage claims in 2017 dropped a typical claim from 11 days to four-and-a-half days. The speed of getting a drone in the air was important because roofing contractors are booked quickly after a storm hits, and a faster claims process can lead to a quicker repair. If an Allstate customer wants a traditional inspection or if the drone pictures aren't good enough, an adjuster will get on the roof.
Farmers Insurance has said that it's using drones not only to provide faster inspections, but to help reduce safety risks for field adjusters. Farmers is using its own claims professionals instead of third-party drone pilots to operate the machinery. Claim representatives are FAA-licensed drone operators who can fly a drone and file insurance claims for customers. Farmers is concentrating its early drone deployment on areas impacted by hailstorms and other severe weather.
Drones can't fly near airports and military bases, and insurers are required by law to get customers' permission to fly drones over their properties. Drone operators must keep their drones within sight, according to Federal Aviation Administration regulations.
The next time you need to call your insurance company to report damage to your home's roof, don't be surprised if the claims representative shows up with a drone. It could lead to faster repairs on your home.